Canoeing, kayaking, rowing and biking
CANOEING TOUR TO THE LAKES OF NUUKSIO WILDERNESS
Canoeing tour with two-person open canoes in Nuuksio's fabulous scenery. Enjoying the nature with a slow pace to take all in. Canoes are jointly carried over necks of wood. A meal break is enjoyed at a beautiful viewing point.
The Three Lake Circuit also includes some hiking and orienteering in the deep wilderness of Nuuksio. Moving from our villas to the starting place with bicycles or our 8-seater minibus. Total length of the route is about 6 to 10 km.
CHURCH BOAT ROWING TO THE ROCK PAINTINGS
A rowing trip to the southern point of the Fjord -like Lake Pitkäjärvi, where we can admire the rock paintings aging from the Stone Age. The guides will steer the Church Boat.
Duration of rowing tour: 2,5 hours. Length of the trip: Apprx. 12 km. Minimum 8 rowers and maximum 14 rowers per boat. Maximum of 28 rowers in tow boats (14+14)
ROM MOUNTAIN TRIP
A trip to the Rom Mountain takes you through the most typical Nuuksio National Park landscape. Along the way there are lakes, swamps and cliffs.Church Boat rowing on Lake Pitkäjärvi, hiking on the lake highlands and biking on small trails either on a brisk or relaxed pace is nature exercise at its best. The guides tell you about the nature of Nuuksio. The participants are divided into two groups and the tour is made in opposite directions. Group 1 starts with rowing Group 2 with cycling to Haukkalampi.
Duration of this trip is about 2,5 hours for 20-28 rowers per boat and 40-56 rowers per two boats.
CHAMPAGNE ROWING
The highest form of Church Boat Rowing. Enjoy the Church wine by the buyou before rowing ashore. A fun team program between two teams
Duration: 2 hours for minimum 16 rowers (8 + 8) and maximum 28 rowers (14 + 14)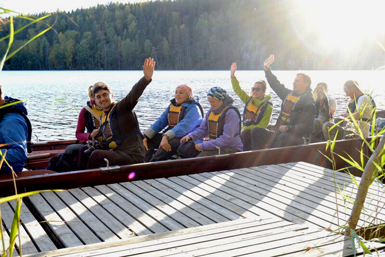 KAYAK POLO
Rubber filled kayaks and helmets with eye-shields make this fast-paced type a safe sport. Qualifying and final rounds are played by the Safari House's forest villa. Dry suits available on cold weather without extra charge.
BIKE TRIP IN NUUKSIO
Bike trip in the varying terrain of Nuuksio – either on an enjoyable pace or faster for those looking for more challenging trails. Group´s wishes will be taken into consideration. Route goes through marked roads and trails. Mountain biking in Nuuksio National Park is not allowed.